Back
Ford Telematics ® + Preferred FCTP/LCTP Partner
The ultimate in Ford and Lincoln fleet management
ARSLoaner is a Ford and Lincoln Preferred FCTP/LCTP Partner and the first vendor authorized by Ford to offer courtesy management via FordPass and Lincoln Way. By connecting directly to the factory installed modem, ARSLoaner offers your dealership the latest in fleet management technology helping you save both time and money. We couple our leading edge technology with the lowest pricing in the market to ensure when it comes to Ford or Lincoln courtesy management ARSLoaner is the easy choice.
The Power of Ford Telematics
Real time GPS tracking
Automatically charge for fuel usage
Advanced vehicle health diagnostics
Fuel level and mileage automatically
added to every agreement
Out of bounds alerts and geofencing
No hardware device to buy or lease
Request Demo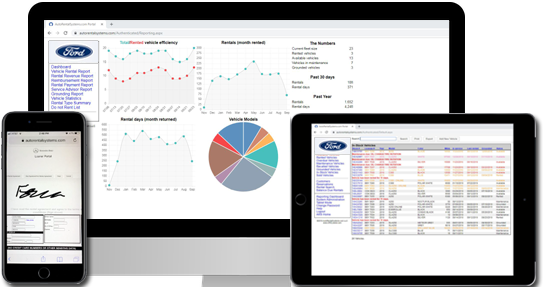 Fully Mobile Platform
Paperless contract creation
Works on your iPad/tablet, phone or desktop
Scan drivers license/auto-populate forms
Scan credit cards
Store walk around damage photos
Captures D/L and insurance card photos
On screen digital signature
Email completed contracts
Valet mode - allows pickup/delivery
Request Demo
If you're managing your courtesy loaner vehicle program using handwritten paper forms, see how we can help modernize your process while saving you money and increasing customer satisfaction. ARSLoaner provides the FCTP and LCTP software required to print the official insurance forms for the
Ford Courtesy Transportation Program (FCTP)
and the
Lincoln Courtesy Transportation Program (LCTP)
and can integrate your loaner management system with Ford Telematics ®. If your Ford or Lincoln dealership uses loaner vehicles, we have the most affordable and easy to use solution available. ARSLoaner has developed a web based solution for our Ford/Lincoln dealers that conforms to the exact specifications of the
Ford CTP
. This ensure FCTP and LCTP compliance. We keep all rental forms up to date by state to ensure your claims are submitted on the correct and most recent form. This helps speed your insurance claim in case of issues with any vehicle in your loaner fleet.
ADDITIONAL FEATURES
Saves/stores customer information
Tracks all vehicle data, customer data, rental contract history
Integrated merchant account
Vehicle reservation system
Prints official Ford loaner agreements on plain paper or can be 100% paperless
Recovers tolls, tickets, fines
Runs on all platforms: iPad/tablet, iPhone or desktop
Complete audit trail for painless manufacturer audits
Drivers license scanner
Track vehicle damage by rental
Split billing
A robust reporting dashboard with charts, graphs and reports to track your fleet performance
Free 30 day trial, no setup fee, user fee or contract!
Request a demo
The ARSLoaner vehicle management system tracks all activity so no more manual tracking in spreadsheets or filling out paper rental forms by hand. Our solution is tailored specifically to how the Ford Motor Company runs its courtesy vehicle program. The ARSLoaner system will help Ford dealers manage their loaner cars based on the time and mileage requirements established by the manufacturer. The system will notify you when you should remove a vehicle from the fleet and flags vehicles when they are eligible to be sold. This avoids mistakes and helps ensure your dealership receives the full incentives while avoiding chargebacks or penalties. Many, many Ford dealers across the US and Canada are already using the ARSLoaner system. Request a quick demo and to find out more and to see how ARSLoaner can solve your loaner car headaches! If you need additional information, references from some current Ford clients or would like to see how this Ford specific solution would work for you, please contact us: Call: 513-334-1040 ext#1
Email: ltierney@ARSLoaner.com
or signup now for a free trial:
Request a demo